Looking for the finest astrologers in Prayagraj? Explore the world of Sarvesh Kesarwani, one of the top 10 astrologers – your best choice in Prayagraj!
Why Sarvesh Kesarwani is among the top 10 astrologers in the city!
In the ancient city of Prayagraj, where spirituality and tradition merge seamlessly, there exists a luminary in the realm of astrology – Sarvesh Kesarwani. With more than a decade of experience, Sarvesh Kesarwani has not only earned the trust of countless individuals but has also become synonymous with precision, quality, and enlightenment in the field of astrology.
A Journey of Wisdom and Insight:
Sarvesh Kesarwani embarked on his journey into the celestial world of astrology over a decade ago. His unwavering dedication to mastering the cosmic sciences and his innate ability to decipher the mysteries of the stars have made him a sought-after astrologer in Prayagraj and beyond. Over the years, he has honed his skills, providing invaluable insights to those seeking guidance and answers in their lives.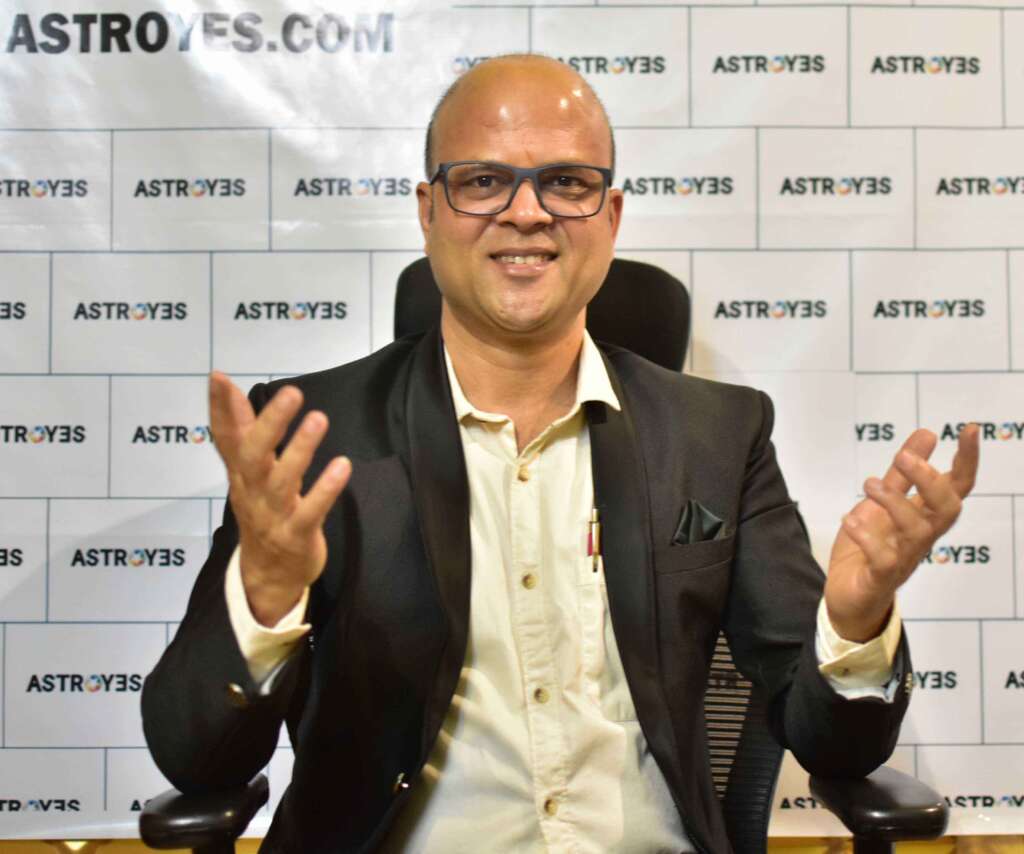 Founder of Astroyes.com
As a testament to his commitment to spreading astrological wisdom, Sarvesh Kesarwani is the proud founder of Astroyes.com. This online platform serves as a hub for astrology enthusiasts and seekers alike. It offers a wide range of services, including horoscope consultancy, horoscope matching, ank jyotish reports, counseling, and guidance services.
Educator and Motivator:
Sarvesh Kesarwani's dedication to astrology goes beyond individual consultations. He has harnessed the power of technology to educate and motivate others on their own astrological journeys. His YouTube channels, "Sarvesh Kesarwani" and "Learn with Astroyes," have become treasure troves of knowledge for astrology enthusiasts. Through these platforms, he imparts his wisdom, helping others decode the celestial messages written in the stars. Astroyes.com has become a trusted resource for individuals looking to understand the influence of the cosmos on their lives.
Solving Life's Complex Puzzles:
What sets Sarvesh Kesarwani apart is his multifaceted approach to astrology. His expertise extends to a diverse range of services, including:
Horoscope Consultation: Offering profound insights into your life's journey through the lens of astrology.
Horoscope Matching: Guiding individuals and couples in their quest for compatible life partners.
Ank Jyotish Report: Uncovering the secrets hidden in the numbers of your life.
Counseling and Guidance Service: Providing support and direction during life's challenging moments (Like Marriage Career and Finance and Health)
Love/Breakup Solution: Helping individuals navigate the complexities of love and relationships.
Vastu Consultancy: Balancing energies in personal and office spaces for harmony and success.
Personal and Office Visit: Offering personalized consultations for a deeper understanding of your unique circumstances.
Love-Related Problems: Assisting in resolving love-related issues with empathy and expertise.
Mangalik Dosha and Kaalsarpyog: Providing remedies and solutions for astrological afflictions.
Legal Issues and Shani Sadesati: Offering insights and remedies to tackle life's legal and Saturn-related challenges.
A Beacon of Light:
In the city of Prayagraj, Sarvesh Kesarwani stands as a beacon of light, guiding individuals through life's twists and turns with the wisdom of the stars. His soft-spoken demeanor, combined with his vast knowledge and motivational spirit, has earned him the reputation of being the best astrologer in Prayagraj.
Whether you seek answers to life's pressing questions, desire a glimpse into your future, or simply wish to explore the profound world of astrology, Sarvesh Kesarwani is the trusted guide who can illuminate your path. With his guidance, you can unlock the secrets of the cosmos and navigate life with confidence and clarity.
So, if you find yourself in the heart of Prayagraj, don't miss the opportunity to connect with Sarvesh Kesarwani, the astrologer whose expertise has touched the lives of many, and whose commitment to enlightenment continues to shine brightly.